Protection in High-Def
May 10, 2023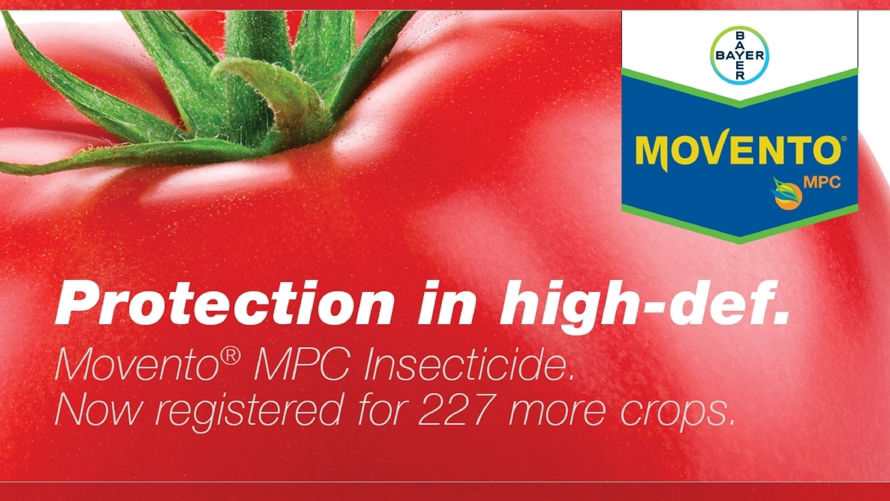 Come harvest time, crops are under the microscope. Fortunately, Movento® MPC insecticide's proactive formula is specifically designed to ensure your crops are close-up ready. Two preventative foliar applications provide long-lasting, comprehensive crop protection that's easy on beneficial insects and tough on whiteflies. So, put the stress of whitefly management in your rear view with Movento MPC.
How is Movento MPC different than Movento?

Movento MPC and Movento® both contain the same single active ingredient, spirotetramat, and share a similar name. However, Movento MPC has a different concentration of the active ingredient than Movento. Learn More
Movento MPC is labeled for use in three states – Florida, Georgia and Alabama. Recently, the Movento MPC's label was expanded from only citrus crops to include an additional 227 crops, encompassing all 251 crops on the Movento label. Read the Announcement
Both Movento MPC and Movento require the use of a spray adjuvant having spreading and penetration properties. Learn More About Adjuvants
Talk to your local retailer to learn about the other differences that might be impactful to your operation, such as price point, PHI, use rates, etc.
Proactive whitefly management for tomatoes & peppers

Management of whitefly populations for tomato and pepper crops is critical for overall success. We recommend two preventative foliar applications, along with an appropriate adjuvant, three and five weeks after transplant. Click the link below to read more about the threats of whiteflies and how Movento MPC helps with proactive management. Read More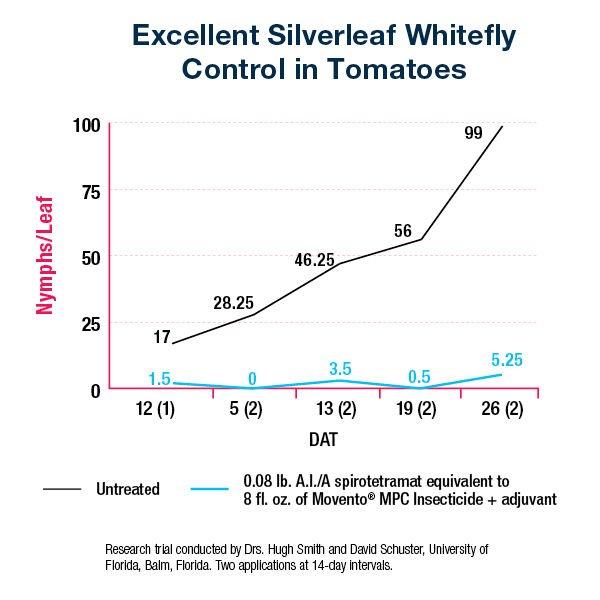 Overview: How Movento MPC works
Movento MPC is a two-way systemic foliar-applied insecticide that offers growers a tool for managing a broad range of pests above and below ground. Movento MPC penetrates the leaf cuticle when sprayed on the leaf surface, along with an appropriate adjuvant, moving from the treated leaves both up to new leaves and down to the roots. This unique two-way systemic activity is key to its ability to control a wide range of above- and below-ground pests. Learn More
Movento MPC applications should occur on a preventive or early threshold basis to allow the time needed for movement throughout the whole plant. Learn More: Application Timing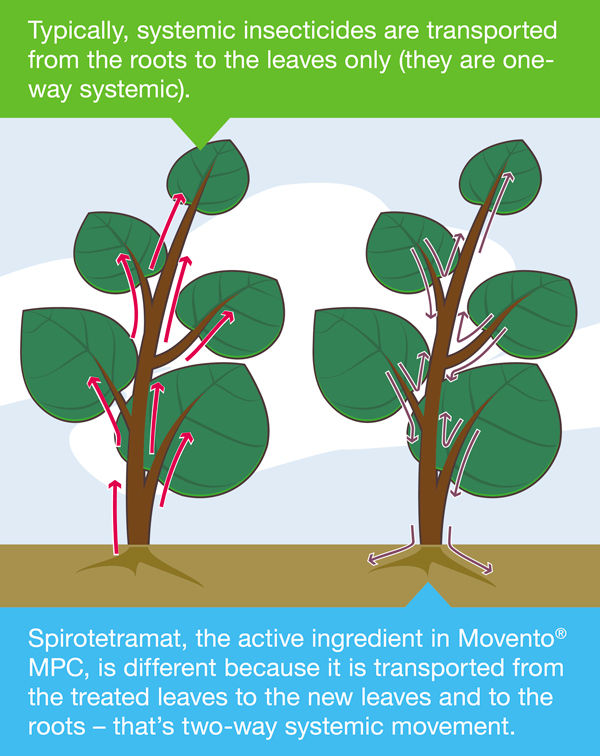 Mode of Action Why Movento MPC works
The active ingredient in Movento MPC, spirotetramat, has a unique mode of action classified as a Lipid Biosynthesis Inhibitor (LBI) that controls pests by moving with the sugars produced by the leaves to all parts of the plant, where it is consumed by the pests when they attempt to feed. Exposed immature pests are unable to continue to develop and exposed adult pests produce fewer young, thereby reducing the population and damage that occurs. Movento MPC is most effective when applied as a preventive or threshold treatment.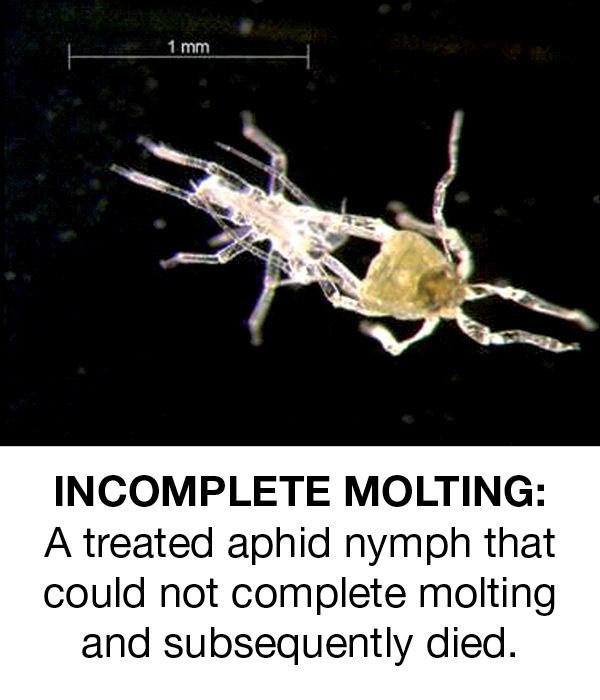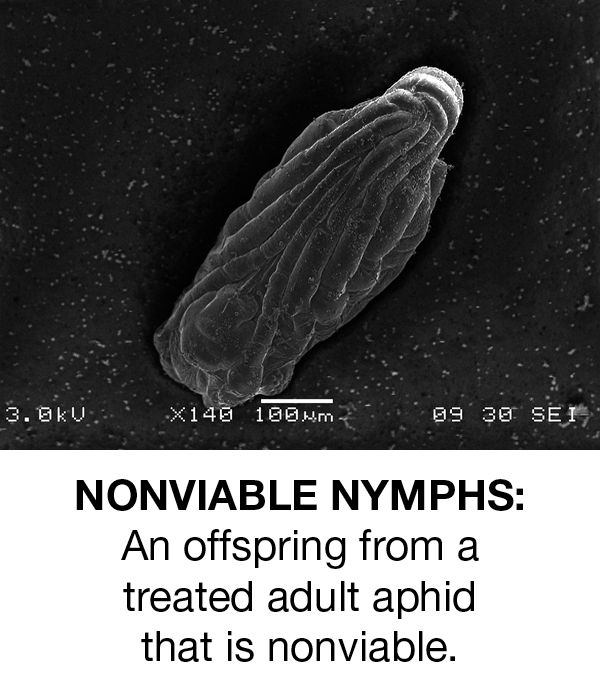 Application Timing When to use Movento MPC
Movento MPC is labeled for multiple applications in several crops. When extended residual control is desired, two applications of Movento MPC on a block treatment schedule will provide residual control greater than two applications separated by another residual product. Learn More: Proactive Whitefly Management
The graph below illustrates the interaction of residual control and the number of applications.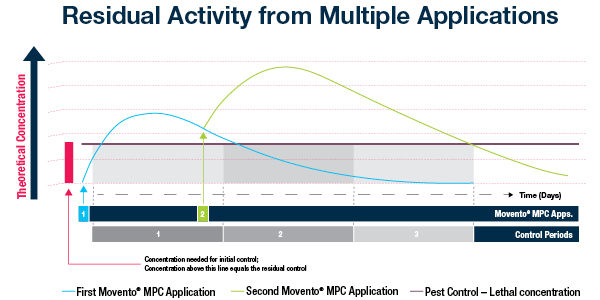 In a block treatment schedule, a portion of the first application is used to overcome the pest for initial control and any concentration greater than this level within the plant results in residual control. When the second treatment in a block application occurs before the concentration drops below the level needed for pest control, all of the material from the second application adds to the residual control.
The extended control is a result of the increased concentration within the plant from the second application because the concentration needed to control the pest is already present.
The importance of using an adjuvant
Movento MPC is formulated as a suspension concentrate (SC) product. It requires the use of a spray adjuvant having spreading and penetration properties to facilitate maximum uptake of the product into the leaf surfaces. Avoid the use of stickers or products that contain stickers as they will reduce the penetration of Movento MPC into the leaves and reduce the effectiveness of the treatment.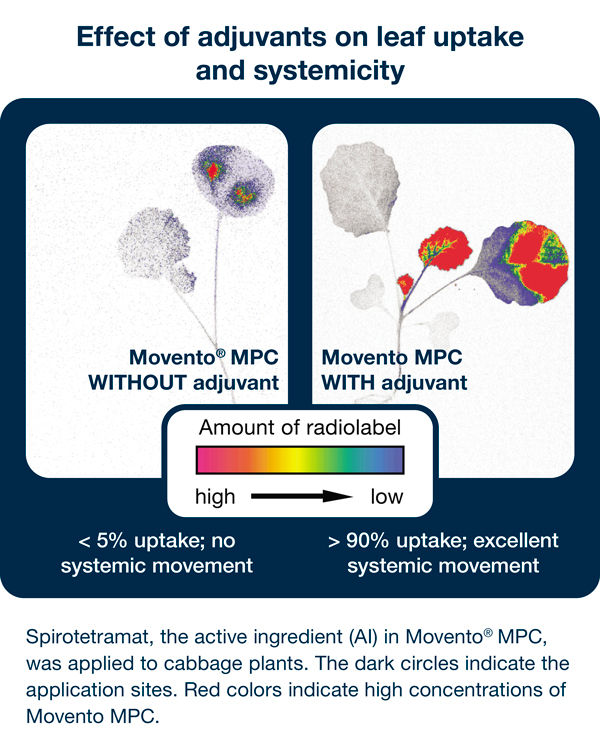 The radiographs above illustrate the importance of adding an adjuvant with Movento MPC by showing the penetration into the lead and the systemic movement to other parts of this cabbage plant. Learn More