CROP PROTECTION
Axiom DF Herbicide
Herbicide
Axiom® herbicide is part of an Integrated Weed Management (IWM) approach to control resistant ryegrass, annual bluegrass and other weed species. IWM uses many tools, including cultural, mechanical and chemical methods.
Approved In
AL, AR, AZ, CO, CT, DC, DE, FL, GA, HI, IA, ID, IL, IN, KS, KY, LA, MA, MD, ME, MI, MN, MO, MS, MT, NC, ND, NE, NH, NJ, NM, NV, OH, OK, OR, PA, RI, SC, SD, TN, TX, UT, VA, VT, WA, WI, WV, WY
| Group Number | Formula | Registration Number |
| --- | --- | --- |
| GROUP 5 15 HERBICIDE | dry | 0000264-00766-AA-0000000 |
---
| Active Ingredient | Formulation |
| --- | --- |
| Flufenacet | 68% DF |
| Metribuzin | 68% DF |
---
---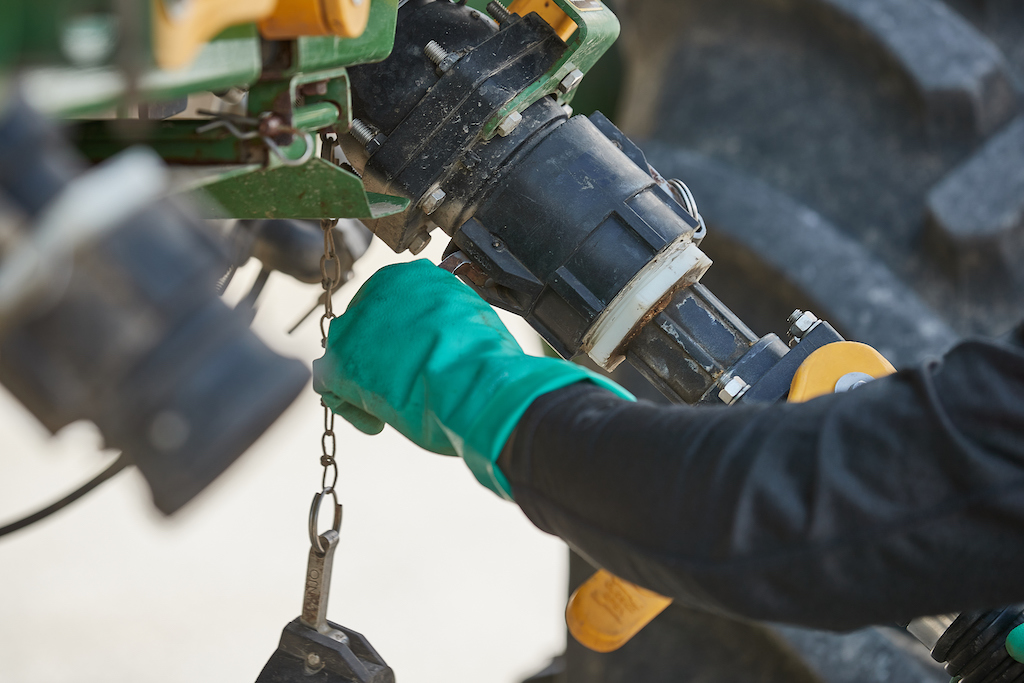 Use and Mixing
The instructions for use and mixing described below are from the Environmental Protection Agency approved Federal Label. Always read and follow label instructions. Not all products are registered for use in every state. Please check with Bayer or your local Lead State Agency for product registration status. If you wish to find out if a product is registered in your state or for additional product information, send us an email or call 1-866-99-BAYER.
Dry Fertilizer Carriers: Axiom DF Herbicide may be impregnated or coated on dry bulk fertilizers for application. Refer to Appendix II of this label for details.

PPE required for early entry to treated areas that is permitted under the Worker Protection Standard and that involves contact with anything that has been treated, such as plants, soil, or water, is:\r\n- Coveralls\r\n- Chemical-resistant gloves made of any waterproof material\r\n- Shoes plus socks

PERSONAL PROTECTIVE EQUIPMENT Applicators and other handlers must wear: - Long-sleeved shirt and long pants - Waterproof gloves - Shoes plus socks Follow manufacturer's instructions for cleaning/maintaining PPE. If no such instructions for washables exist, use detergent and hot water. Keep and wash PPE separately from other laundry.

MIXING INSTRUCTIONS Liquid Carriers: Axiom DF Herbicide is a dry flowable herbicide that must be mixed in water or sprayable fluid fertilizer. Compatibility of Axiom DF Herbicide or its labeled tank mix products with these liquid carriers should always be predetermined prior to spraying. Refer to the SPRAYABLE FLUID FERTILIZER COMPATIBILITY TEST (Appendix I) of this label to determine product compatibility in fluid fertilizer carriers. Before mixing Axiom DF Herbicide and its labeled tank mixtures, examine the spray equipment making sure it is completely clean and free of rust or corrosion. Be sure the equipment is free of any residues from previously used pesticides. Flush lines with clean water or recommended detergents after the last application. Use an approved method for disposing of rinsate. For optimal spray tank mixing convenience and efficiency, Axiom DF Herbicide is recommended to be added to the spray tank via an eductor system. The proper mixing sequence for Axiom DF Herbicide and recommended tank mixtures with the appropriate liquid carrier is as follows: 1. Fill the spray tank or nurse tank 1/4 full with the appropriate liquid carrier. 2. Start recirculation and agitation system and continue throughout mixing and application. 3. If the compatibility test indicates the need of a compatibility agent, add the recommended amount of compatibility agent to the spray tank. 4. If ammonium sulfate is to be used, add it now. 5. Next add the specified quantity of Axiom DF Herbicide through the eductor system or to the spray tank [slowly add Axiom DF Herbicide if water or sprayable grade nitrogen fertilizers (28-0-0, 32-0-0) are the carriers; for other sprayable grade fertilizers first check compatibility and then either mix directly or preslurry first in water depending on the results of the compatibility test]. 6. If tank mixing with wettable powders or other dry flowable products in water as the carrier, they may be added now. If tank mixing these products in a sprayable grade fertilizer carrier, first preslurry these products with water and then slowly add them to any sprayable grade fertilizer carrier. 7. If tank mixing with emulsifiable concentrates or soluble products, add the products to the spray tank. 8. If tank mixing with a glyphosate- containing product or Touchdown(R), add the products to the spray tank. 9. If mixing spray adjuvants in the mixture, add them after all other products have been mixed. 10. Fill the spray tank to the desired level with the appropriate liquid carrier.
---
---