CROP PROTECTION
Diflexx Herbicide
Herbicide
DiFlexx® herbicide is an ideal combination of dicamba and a highly effective CSI Safener.
Approved In
AL, AR, CA, CO, CT, DE, FL, GA, HI, IA, ID, IL, IN, KS, KY, LA, MA, MD, ME, MI, MN, MO, MS, MT, NC, ND, NE, NH, NJ, NM, NV, NY, OH, OK, OR, PA, RI, SC, SD, TN, TX, UT, VA, VT, WA, WI, WV, WY
| Group Number | Formula | Registration Number |
| --- | --- | --- |
| GROUP 4 HERBICIDE | liquid | 0000264-01173-AA-0000000 |
---
| Active Ingredient | Formulation |
| --- | --- |
| Diglycolamine salt of 3,6-dichloro-o-anisic acid | 4 lb/gal suspension concentrate |
---
---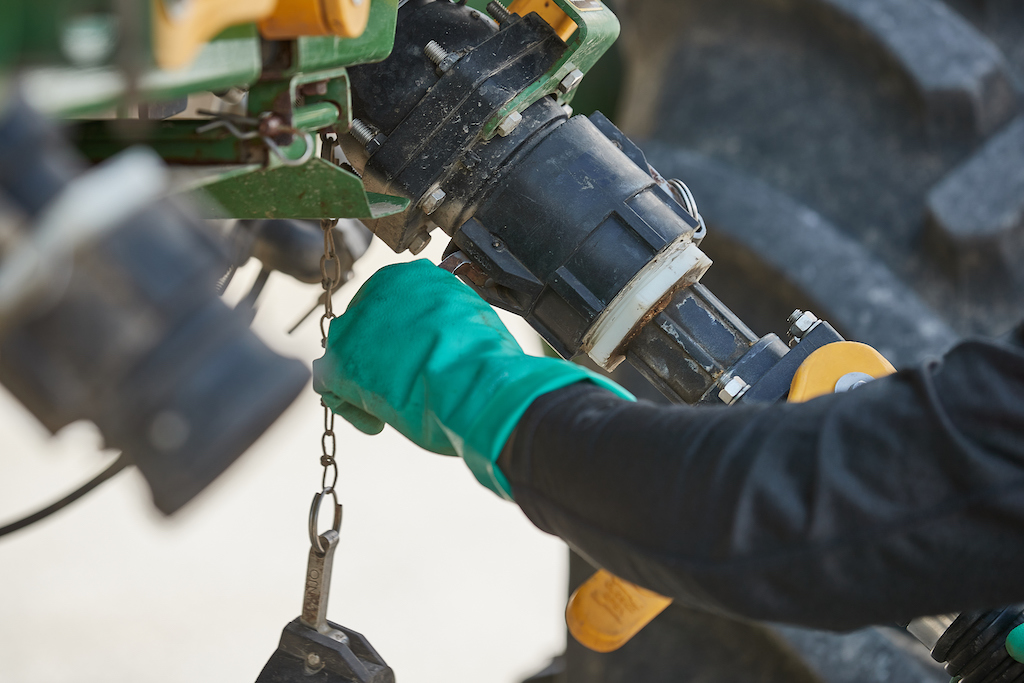 Use and Mixing
The instructions for use and mixing described below are from the Environmental Protection Agency approved Federal Label. Always read and follow label instructions. Not all products are registered for use in every state. Please check with Bayer or your local Lead State Agency for product registration status. If you wish to find out if a product is registered in your state or for additional product information, send us an email or call 1-866-99-BAYER.
PPE required for early entry to treated areas (that is permitted under the Worker Protection Standard and that involves contact with anything that has been treated, such as plants, soil, or water), is:\r\n- Coveralls worn over short-sleeved shirt and short pants\r\n- Chemical-resistant footwear plus socks\r\n- Chemical-resistant gloves made of any waterproof material\r\n- Chemical-resistant headgear for overhead exposure\r\n- Protective eyewear

PERSONAL PROTECTIVE EQUIPMENT (PPE) Some materials that are chemical-resistant to this product are nitrile rubber and butyl rubber. If you want more options, follow the instructions for Category C on an EPA chemical-resistance category selection chart. All mixers, loaders, and applicators and other handlers must wear: - Long-sleeved shirt and long pants; - Chemical-resistant gloves (except for pilots); - Shoes plus socks. See Engineering Controls Statement for additional requirements. Follow the manufacturer's instructions for cleaning and maintaining PPE. If no such instructions for washables exist, use detergent and hot water. Keep and wash PPE separately from other laundry.

COMPATIBILITY TESTING AND TANK MIX PARTNERS Before mixing components, always perform a compatibility jar test. For 20 gallons per acre spray volume, use 3.3 cups (800 ml) of water. For other spray volumes, adjust accordingly. Only use water from the intended source at the source temperature. Add components in the sequence indicated in the Mixing Order Instructions section using 2 teaspoons for each pound or 1 teaspoon for each pint of label rate per acre. Always cap the jar and invert 10 cycles between component additions. When the components have all been added to the jar, let the solution stand for 15 minutes. Evaluate the solution for uniformity and stability. The spray solution should not have free oil on the surface, nor fine particles that precipitate to the bottom, nor thick (clabbered) texture. If the spray solution is not compatible, repeat the compatibility test with the addition of a suitable compatibility agent. If the solution is then compatible, use the compatibility agent as directed on its label. If the solution is still incompatible, DO NOT mix the ingredients in the same tank. Unless otherwise prohibited on this label or the label of an intended tank mix product, DIFLEXX Herbicide may be applied in combinations with any pesticide registered for the same crop, timing and method of application. See the SPECIFIC CROP USE RECOMMENDATIONS section for more details. It is the pesticide users responsibility to ensure that all products are registered for the intended use. Read and follow the applicable restrictions, limitations and directions for use on all product labels involved in tank mixing. Users must follow the most restrictive directions for use and precautionary statements of each product in the tank mixture. Order of Mixing DIFLEXX Herbicide may be used with other pesticides, fertilizers, and micronutrients. The proper mixing procedure for DIFLEXX Herbicide alone or in tank mix combinations with other pesticides is: 1. Water. Begin by agitating a thoroughly clean sprayer tank three-quarters full of clean water. 2. Agitation. Maintain constant agitation throughout mixing and application 3. Inductor. If an inductor is used, rinse it thoroughly after each component has been added. 4. Products in PVA bags. Place any product contained in water-soluble PVA bags into the mixing tank. Wait until all water-soluble PVA bags have been dissolved and the product is evenly mixed in the spray tank before continuing. 5. Add DIFLEXX Herbicide and other water-dispersible products (dry flowables, wettable powders, suspension concentrates, or suspoemulsions) 6. Water-soluble products. 7. Emulsifiable concentrates (such as oil concentrate when applicable). 8. Water-soluble additives. 9. Remaining quantity of water. Maintain constant agitation during application.
---
---