Battling Barnyardgrass in Wheat Crops
September 3, 2019

Barnyardgrass is a vigorous summer weed that thrives in rich, moist soils and can even withstand partial submergence. It's often found in open, sunny areas such as cropland, pastures, marshes, roadsides and in wet ditches across the United States. It can also quickly drain soil of important nutrients such as potassium, nitrogen and phosphorus.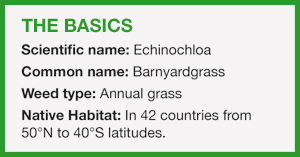 Favorable Conditions for Prolific Weed Seed Production
Barnyardgrass flourishes in moist, compact soils where there is plenty of sunlight and temperatures range from 75° to 90° F. If left untreated, the weed can grow to 5 feet in height. Barnyardgrass is versatile enough to survive dry periods, but growth and seed production are greatly reduced, reducing its threat during drought.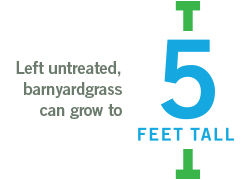 Nutrient Loss: Important nutrients such as potassium, nitrogen and phosphorus can be quickly taken up by barnyardgrass. About 60 to 80 percent of soil nitrogen can be robbed by barnyardgrass in a heavily infested crop area.1
Emergence Timing: Plants emerging from July through September will only be a fraction of the size of those germinating in March and April. These late arrivals pose little threat to crops, as barnyardgrass is susceptible to crop shading.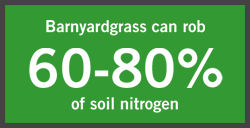 The greatest threat? Barnyardgrass weeds that appear in early spring.
Identifying Barnyardgrass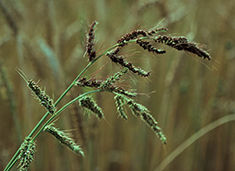 At emergence, barnyardgrass has a reddish color. The first true leaf is smooth and wide with a rounded tip. Rolled in a bud, the seedling will turn green and grow to about ¾ inch tall. Seedling leaves are without hairs, distinctly flat, and tinted a dark red at the base.
Barnyardgrass is one of the few grasses without auricles or ligules at the junction of the leaf blade and sheath. The leaf sheath is also rolled into a bud and is open but compressed.
Mature leaves range in length from 4 to 20 inches and have a thick white midvein. They are rough to the touch on both sides, but the leaf collar is smooth and the stem is flat.
Weeds grow in clumps by rooting and branching at the lower joints. A single plant can grow as many as 15 tillers, creating a patch-like look in the field. Expect to see denser tillering in areas of high soil fertility.
The root system is dense and fibrous, and one plant can cover a 30-inch diameter with roots that reach only 2 to 6 inches below the soil surface.
Flowering takes place from July to October. The dense, erect, branched flower head can be 2 to 8 inches long. About a dozen pencil-shaped purple and green side branches, each ¾ to 2 ½ inches long, develop individual spikelets containing seeds.
The unique seedhead is green to purple in color. It has a 2- to 8-inch densely packed bristle with pale yellow, 1/8-inch seeds that are flat on one side and round on the opposite.
Known Resistance to Barnyardgrass
Barnyardgrass is resistant to many classes of chemistry, including ACCase (1) and ALS (2) inhibitors. Many barnyardgrass control programs have used glyphosate (9) as the foundation.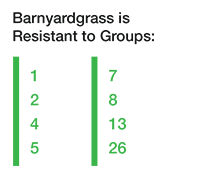 How Do I Manage Barnyardgrass?
Because barnyardgrass does not handle shade well, early-season field crops will be good competitors.
Because of regional crop differences, a range of management practices can help manage barnyardgrass, including:
Avoid mowing; the plants will quickly regenerate.
For the best coverage and efficacy, use full herbicide rates and manage the timing of post-emergence herbicide applications.
Using a disk harrow will eliminate young plants before they grow seeds.
Plow in the fall or use a shallow tillage program to allow germination so weeds can be eliminated before planting. The risk of erosion becomes too high on sloping ground, so only use these practices on flat ground.
Bayer Solutions for Barnyardgrass in Wheat Crops
Bayer offers growers a number of weed control options to protect wheat.
Huskie® Complete all-in-one wheat herbicide fights tough-to-control grasses, including barnyardgrass. Powered by a powerful active ingredient and three sites of action (2, 6, 27), Huskie Complete helps manage weed resistance and reduces the time and hassle of tankmixing. Huskie Complete also offers growers a wide window of application.
Growers looking to have more rotational flexibility should consider Varro® (2), which offers effective control of barnyardgrass without jeopardizing the safety of rotational crops. Growers can even plant pulse crops, including peas, lentils and dry beans, behind wheat without any lingering residual effects.
To learn more about products Bayer offers to help control weeds in wheat as part of an integrated weed management program, contact your local Bayer representative.
Remember: Not every product is suitable for every situation, and use of the correct application technique will ensure the best results. A well-thought-out herbicide program, using multiple sites of action, should be implemented to sustainably manage weeds. Before applying any herbicide, please read the entire label for the best possible results and to confirm that the product is effective on the weeds you wish to control.

© 2018 Bayer CropScience LP, 800 North Lindbergh Blvd., St. Louis, MO 63167. Always read and follow label instructions. Bayer, the Bayer Cross, Huskie Complete and Varro are registered trademarks of Bayer. Huskie Complete is a Restricted Use Pesticide. Huskie Complete and Varro are not registered for use in all states. For additional product information, call toll-free 1-866-99-BAYER (1-866-992-2937) or visit our website at www.CropScience.Bayer.us.
BR0518GENERAB175S00R0