Cut Down on Weed Control Risks in Pulse Crop Rotations
February 5, 2019

The short residual in Varro® herbicide is a good option for using in wheat prior to planting sensitive pulse crops.
Over the past two decades, pulse crops have become an increasingly popular choice for wheat growers seeking to diversify their crop rotations and replace fallow.
Herbicide Management is Key with Pulses
Cereal growers need to be aware of how their weed-control choices will affect their recropping intentions with pulse crop rotations, including peas, beans, chickpeas and especially lentils. Pulses are sensitive to residues from herbicides used in other crops, including wheat.
"Lentils are often referred to as the canary in the coal mine, because they are so sensitive to a lot of different chemistries," says Ed Davis, research scientist and herbicide specialist at Montana State University.
Avoid Factors that Increase Risk to Pulse Crops
Chris Willenborg, weed-management researcher at the University of Saskatchewan, Canada, stresses some key variables in terms of carryover risk to pulses when applying herbicide in a wheat crop.
"The two main drivers are moisture and temperature. We most often see cases of residual problems in cool, dry conditions, such as a cool, dry fall or a period shortly after seeding that leads into the next growing season. Most herbicides used in wheat crops are broken down by microbes, so anything that affects microbial survival is going to affect the potential for residues."
In the icebox climate of the Northern Plains and Canada, chemicals break down more slowly than in southern states. A study conducted in Canada in 2017 found that the rate of herbicide dissipation decreased along with a decrease in incubation temperature and duration.2
"In 2017, we were very dry in North Dakota," says Brian Jenks, weed scientist at North Dakota State University. "Many areas in the state won't be able to plant peas or lentils in 2018 because of how dry it was."
Other key risk factors for herbicide chemistry carryover into a sensitive pulse crop include finely textured soils, low organic matter and, for some products, more acidic pH conditions. Check each chemistry's rotation restrictions, Jenks warns.
Choose a Herbicide with a Shorter Residual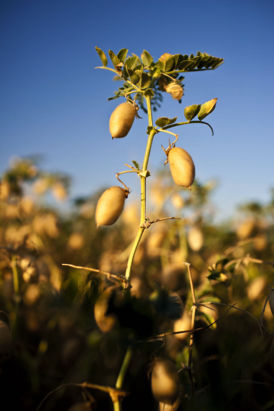 Good cultural pactices give all your other tools, including herbicides, more muscle to do their job.
If a wheat-crop herbicide has a typical plant-back restriction of 12 or 18 months, it carries a significant risk of injuring the following pulse crop and even those beyond. That includes herbicides in Group 2, which is an essential tool for grass control in wheat due to the prevalence of weed resistance to Group 1 herbicides.
The answer lies in a shorter residual.
"Most Group 2 herbicides are long-lived in the soil. That would mean two crop intervals for us," says Chris Westergard, a Montana wheat farmer. "That's why having an herbicide with a shorter residual protects that pulse crop."
A Group 2 with a shorter residual, such as Varro®, fits that bill perfectly, says Trisha Molitor, sales associate at Bayer.
"Varro is a game changer," she says. "It has active ingredients that offer flexibility to rotate to sensitive pulse crops, such as lentils, where some other Group 2 herbicides don't offer this option. Spring wheat and durum growers can treat grasses without jeopardizing crop safety or their rotational crop."
As it has no re-cropping restrictions with pulse crops, Varro gives cereal growers the flexibility to rotate back to pulses the next season.
Varro controls green and yellow foxtail, barnyard grass and even stubborn wild oat in wheat with excellent results. The herbicide also offers a wide range of tank-mix choices for broadleaf-control products while enhancing the performance of those products, Molitor notes.
Jenks agrees that using an herbicide on wheat with a shorter restriction period is a better option. "A short-residual herbicide such as Varro is a good option for using in wheat prior to going to sensitive pulse crops like lentils," he says.
Using Varro helps growers edge away from heavy use of Group 1 herbicides as well.
"One of the main advantages of Varro is that it helps us with a lot of grassy weeds that are problematic in cereal grains — crops we've traditionally applied with Group 1 herbicides," Davis says. "So Varro gives us a different chemistry in our cereal grain crops to control weeds that no longer respond to Group 1, yet still gives us rotational flexibility before we go into a pulse crop. Without it, we're stuck with Group 1 in cereal grains."
"Over the last 30 years, we have been very heavy in our use of Group 1, so it is certainly a positive when we can use a Group 2 such as Varro. We're utilizing a different site of action," Jenks says.
Westergard says they sprayed Varro early and had nice growing conditions in their durum the year prior. "We still get a good level of control versus other Group 2 products," Westergard notes. "We've had good experience with Varro. We didn't have any problems afterward in the pulse crop, either."
As with any herbicide, use labeled rates and spray weeds at the stage listed on the label, Davis says.
Next in the series, we'll offer helpful tips for getting the most out of your herbicide choice.

©2019 Bayer Group. Always read and follow label instructions. Bayer, the Bayer Cross, and Varro are registered trademarks of Bayer Group. Varro is not registered in all states. For additional product information, call toll-free 1-866-99-BAYER (1-866-992-2937) or visit our website at www.CropScience.Bayer.us. Bayer CropScience LP, 800 North Lindbergh Blvd. St. Louis, MO 63167.
Sources:
1. Montana State University Schutter Diagnostic Lab. "Diagnosing Herbicide Carryover in Pulse Crops." (June 26, 2017–August 26, 2017). http://www.mtagalert.org/alertDocs/Diagnosing%20Herbicide%20Carryover%20in%20Pulse%20Crops.pdf (Accessed April 2018)
2. Cessna, Allen, et. al. "Effect of Temperature on the Dissipation of Seven Herbicides in a Biobed Matrix." Canadian Journal of Soil Science, 97(4): 717-731 (2017). https://doi.org/10.1139/cjss-2017-0017 (Accessed April 2018)