How to Watch Corn Early to Detect Eyespot
January 31, 2018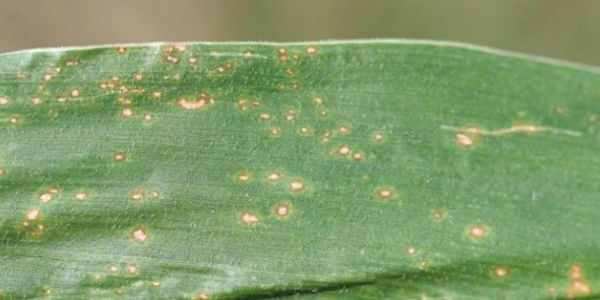 Early symptoms of eyespot include small, light green, circular lesions with yellow halos. Photo courtesy of Daren Mueller, Iowa State University, Bugwood.org.
Corn eyespot disease, caused by the Kabatiella zeae fungus, thrives in extended periods of cool, wet weather and is most problematic in the Northern Corn Belt states. Most severe infestations are seen in fields with corn residue left from a previous season and, especially, in continuous corn and no-till or reduced-tillage fields.
When corn eyespot heavily infests a crop, almost all plants in a field may die within two weeks of infection. When much of the corn leaf area shows eyespot blight, growers can expect yield loss to occur three to four weeks after silking. Defoliation, another cause of yield loss from corn eyespot, leads to stalk root rot and, ultimately, corn lodging.
Here are steps you can take to identify and manage corn eyespot disease.
Identification and Lifecycle
Eyespot lesions first appear on corn leaves as small, water-soaked circles that are yellow to light green in color. As the disease progresses, the centers of the spots darken to a tan color with a brown or purple border. When the leaf is held to the light, the lesion border may show a yellow halo, giving the corn disease its name: "eyespot."
Corn residue is the only reported host for corn eyespot. The eyespot fungus overwinters in corn residue and survives to create new spores to infect corn in a new growing season. Spores are then dispersed by wind, and can germinate and create disease infection in a week or less. The disease most frequently attacks in cooler weather – August, September and sometimes early October – but during an unusually cool growing season, eyespot can infect corn much earlier.
Scouting
Check fields early and often for symptoms. Maps of field history, sampling, lab diagnostics, pest identification guides and your local Extension office or agronomists are good resources.
For foliar diseases such as corn eyespot, scouting during tasseling is advised – particularly if one more of the following exists in your field:
Susceptible hybrids to foliar disease are planted in a field with corn eyespot history.
Continuous corn is the cropping system.
Corn is planted late.
Irrigation is part of your system.
Ideal weather conditions for disease development exist.
Managing Corn Eyespot
Growers have several options to manage corn eyespot disease, including hybrid selection, scouting, cultural practices and fungicides. A well-thought-out disease-management program should be implemented to sustainably manage corn diseases.
Hybrid Selection – Planting corn hybrids with disease resistance is the most economical and effective way to avoid corn eyespot. Not all hybrids are resistant to all diseases, but even partial resistance goes a long way to preventing yield losses.
Cultural Practices – Crop rotation remains a strong defense against diseases. Rotating from corn to non-host crops helps starve disease pathogens, resulting in reduced risk of infection and disease levels. Any type of tillage that helps break up crop residue from a previous corn crop will help reduce eyespot disease and other overwintering diseases in corn residue.
Fungicides – Foliar fungicides can be applied early in the growing season as a risk-management tool for corn eyespot and other corn diseases, including anthracnose leaf blight and northern corn leaf blight. If used after corn eyespot disease is identified, fungicide treatments are most effective when applied early in the disease outbreak.
Delaro® fungicide offers preventative and curative defense against yield-robbing diseases, including gray leaf spot, northern corn leaf blight, anthracnose leaf blight and southern rust. This versatile fungicide has application flexibility — at-tassel timing (VT to R2), in combination with a herbicide (V4 to V7) and/or in between (V8 to VT). Delaro can be applied by air, ground or by chemigation and can be mixed with adjuvants, herbicides, insecticides and micronutrients.
Before applying any fungicide, please read the entire label for the best possible results and to confirm that the product is effective on the disease you need to control. Not every product is suitable for every situation, and correct application technique will ensure the best results.
For more information on corn disease management solutions from Bayer, contact your local Bayer representative or visit our corn section.