Top 8 Tips for Grain Sorghum Yields
December 19, 2018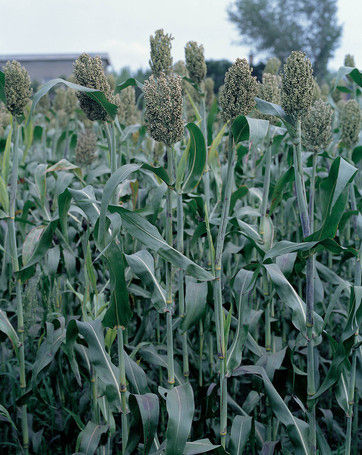 Close up of grain sorghum crops in field
While there are many factors involved in achieving top yields, these tips can help to produce the best grain sorghum (milo) for increased yields.
Hybrid selection – Choose the best sorghum seed hybrids for your region and individual farming practices. Look for hybrids that offer the highest yield potential in their maturity group (early, medium or late maturing). Select grain sorghum hybrids that have some tolerance to sugarcane aphids. Consult with local seed dealers and review results of university extension and industry association sorghum hybrid trials. Take a look at taller hybrids with top-performing seed genetics.
Seed treatments – Purchase seed professionally treated with a quality combination of fungicides and insecticide to support sorghum stand establishment and get seedlings off to a vigorous start. A seed treatment is a cost-effective risk management tool to protect crops from yield-robbing diseases and pests early in the season, including sugarcane aphids.
Soil testing and fertility levels – Use soil sampling to gauge fertility and maintain optimum soil nutrient levels. Restore more nutrients to the soil than were removed during harvest of the previous crop. For example, pre-plant fertilizers may enhance weed control and encourage greater plant growth sooner. When using pre-plant fertilizers, go with the high end of recommended levels for phosphorous, sulfur, potassium and nitrogen.
Nitrogen management – Apply nitrogen based on the yield history of your field and goals for the current growing season. For top return on investment, grain sorghum needs 1.1 pounds of nitrogen per bushel.
Seedbed preparation – Plant grain sorghum seed in rows 1 inch deep in heavy soils and 1.5 to 2 inches deep in sandy soils. To achieve better stands, use a corrugated roller or cultipacker after seeding. Sorghum yields perform well with no-till and reduced-till planting in warmer climates, where residue helps retain moisture.
Seeding date – Plant seeds between late February and early June, depending on your region. If the grain sorghum planting date occurs after early June, yields are reduced. Soil temperatures should reach 60 to 65 degrees F before sorghum seed is planted.
Pest management – Control weeds, diseases and insects with timely scouting and identification. Management options include sorghum hybrids with partial disease and insect resistance, seed treatments and foliar fungicides and insecticides. Pre-emergence weed control is critical. Controlling sugarcane aphids should include a management system that protects beneficial insects, including pollinators, as well as appropriate timing of insecticides.
Harvest practices – Harvest sorghum when seed moisture is 20 to 25 percent. Frost makes the grain drier, and seed can be cracked during harvesting.
Bayer Solutions for Sorghum
Bayer offers a broad portfolio of season-long products to help sorghum growers achieve the highest possible yield and grain quality, including:
For information on Bayer's portfolio of products to help sorghum growers maximize yields and protect crops, contact your local Bayer representative.

Before using an insecticide, please read the entire label for the best possible results and to confirm the product is effective on the pests you wish to control. Not every product is suitable for every situation, and the use of the correct application technique will ensure the best results. Baythroid XL is a Restricted Use Pesticide. Bayer, the Bayer Cross, Baythroid, Gaucho, Huskie, and Sivanto are registered trademarks of Bayer.