4 MIN READ
Height Difference Between Traditional Corn Products and Short Stature Corn Hybrids*
March 31, 2018
Short stature corn hybrids are on the horizon and close to becoming commercially available through our Preceon™ Smart Corn System. Compared to the height of traditional corn products (9 to 12 feet or more), short stature corn hybrids' height is targeted to be less than or equal to 7 feet (measured from the soil surface to the top collar of the flag leaf) depending on the genetics of each product (Figure 1).

Figure 1. Traditional-height corn on left and short stature corn hybrids on right. Picture taken July 28, 2022, Irvington, IL.
THE POTENTIAL BENEFITS OF REDUCED PLANT HEIGHT INCLUDE:
Reduced risk of yield losses from lodging or greensnap in high winds and challenging weather conditions.1
Season-long access for more timely, precise application of crop protection and nutrient applications with standard ground equipment.
The ability to explore higher seeding rates, which has the potential to produce higher yields.
Improved silage quality because of reduced lignin content.2
HEIGHT DIFFERENCE BETWEEN TRADITIONAL CORN PRODUCTS AND SHORT STATURE CORN HYBRIDS*
A traditional-height corn plant produces about 18 to 21 leaves during its life (as the plant grows, some leaves senesce; therefore, not all are present at maturity). These numbers remain similar with short stature corn hybrids; however, the leaves are closer together because of shorter internodes (primarily below the ear) within the Bayer breeding trait that will be the first to market (Figure 2).
Customary corn growth stages, VE to R6, are the same in short stature and traditional corn except a differentiation in height between the two corn types becomes noticeable when rapid growth begins around V6 to V8 (V refers to vegetative and the number refers to leaf number according to the visible collar method of leaf development) (Figures 3 and 4). The letter "R" refers to reproductive with the number referring to stages of kernel development (Table 1).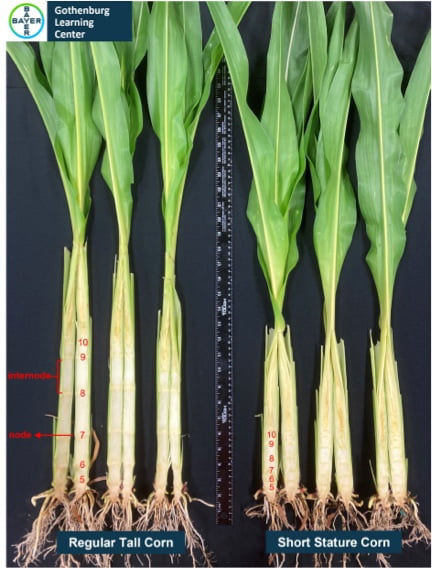 Figure 2. Comparison of internode length for traditional-height corn (left) and short stature corn hybrids (right) at Gothenburg, NE.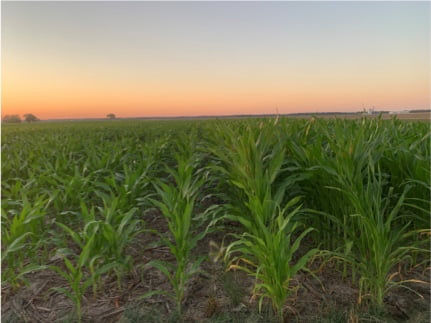 Figure 3. Short stature height differentiation begins to show around V6 to V8 growth stages. Picture taken June 16, 2021, Irvington, IL.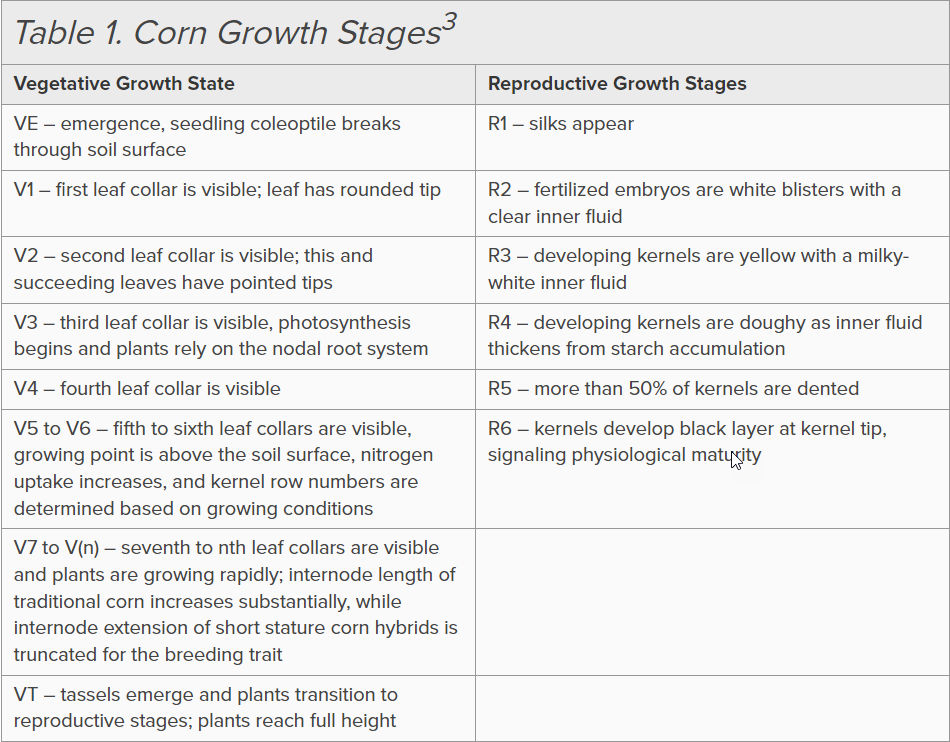 Figure 4. Diagram depicting difference in height of short stature corn hybrids compared to traditional corn. Height differentiation may be visible around V6 to V8 as internode length in traditional corn starts to increase rapidly.
1 Based on Bayer internal trials (2018-2020) across a range of environments (535 locations, 16 states), including numerous testing locations in the path of the 2020 Derecho event across Iowa.
2 Based on Bayer internal silage trials (2017-2020) across a range of environments (15 locations, 10 states), including testing locations in major dual-purpose and silage market areas.
3 Reed, Heidi. 2020. Corn growth stages. Penn State Extension. The Pennsylvania State University.
https://extension.psu.edu/corn-growth-stages
Web sites verified 8/5/22
Looking for more information on this topic, or have a question regarding anything else?

*The Preceon™ Smart Corn System, including short stature corn developed through traditional breeding, is expected to be available, subject to final commercialization decisions, for planting in the 2024 growing season. Preceon™ is a trademark of Bayer Group.
This material may contain "forward-looking statements" based on current assumptions and forecasts made by Bayer management. Various known and unknown risks, uncertainties and other factors could lead to material differences between the actual future results, financial situation, development or performance of the company and the estimates given here. These factors include those discussed in Bayer's public reports which are available on the Bayer website at http://www.bayer.com/. The company assumes no liability whatsoever to update these forward-looking statements or to conform them to future events or developments.