CROP PROTECTION
Alion Herbicide
Herbicide
Longer-lasting Alion® herbicide provides a unique solution for pre-emergence control of a broad range of grass and broadleaf weeds, including ALS-, ACC-ase-, triazine- and glyphosate-resistant species. Alion simplifies weed control, allowing producers to turn their attention to what really counts - profits.
Approved In
AL, AR, CA, CO, CT, DE, FL, GA, HI, IA, ID, IL, IN, KS, KY, LA, MA, MD, ME, MI, MN, MO, MS, MT, NC, ND, NE, NH, NJ, NV, OH, OK, OR, PA, RI, SC, SD, TN, TX, UT, VA, VT, WA, WI, WV, WY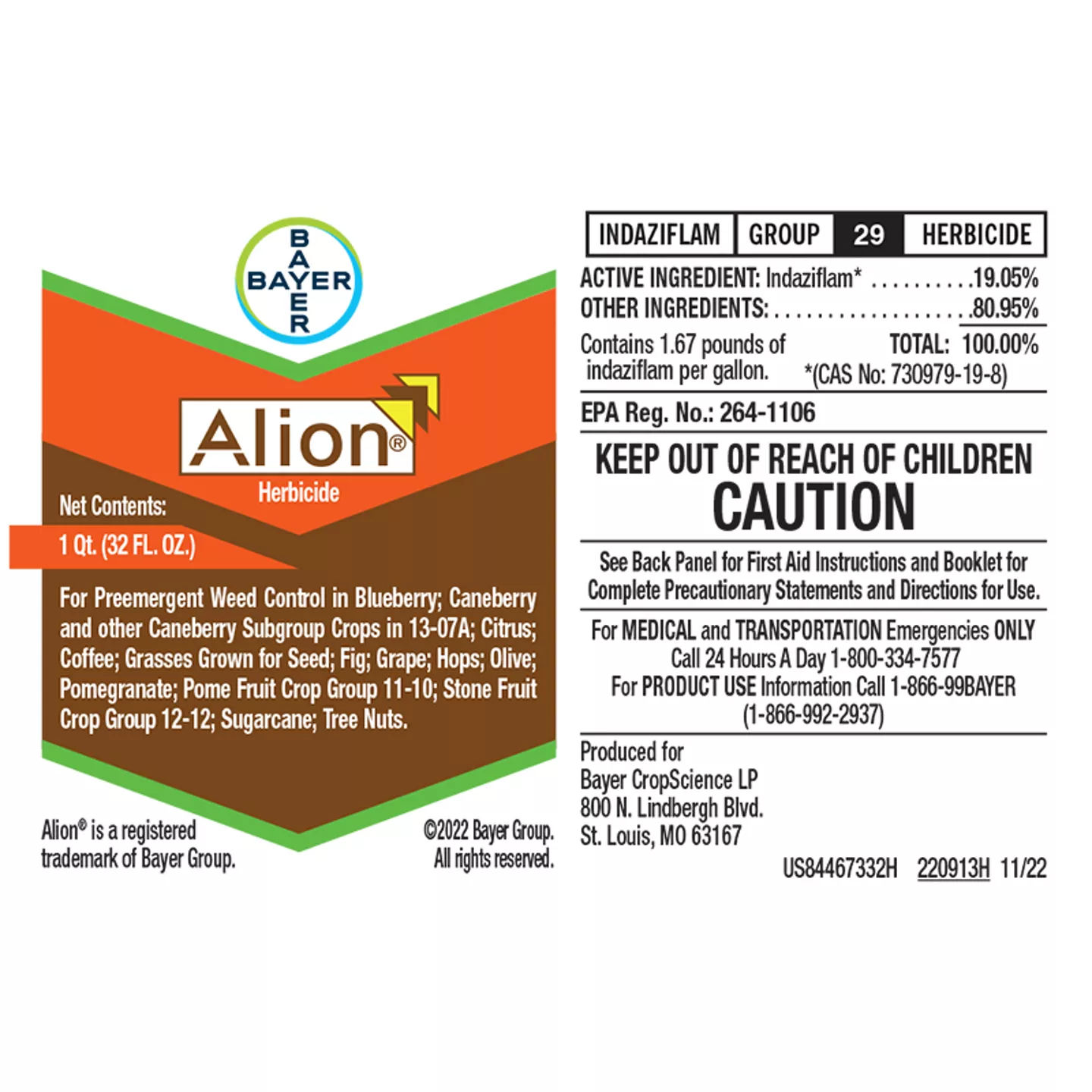 | Group Number | Formula | Registration Number |
| --- | --- | --- |
| GROUP 29 | liquid | 0000264-01106-AA-0000000 |
---
| Active Ingredient | Formulation |
| --- | --- |
| Indaziflam | 1.67 lb/gal suspension concentrate |
---
---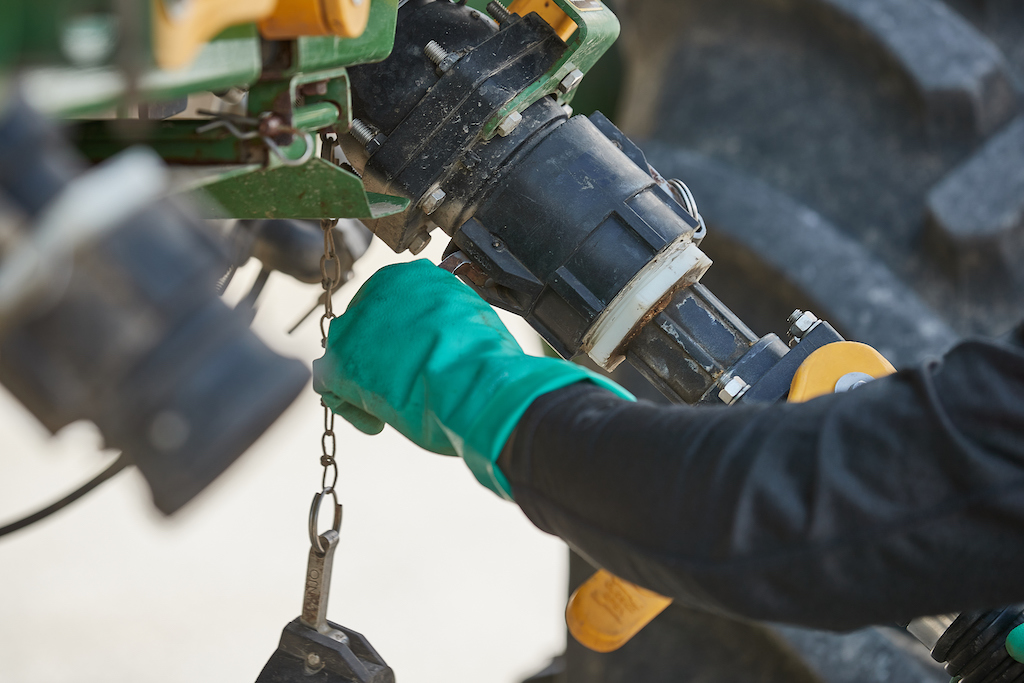 Use and Mixing
The instructions for use and mixing described below are from the Environmental Protection Agency approved Federal Label. Always read and follow label instructions. Not all products are registered for use in every state. Please check with Bayer or your local Lead State Agency for product registration status. If you wish to find out if a product is registered in your state or for additional product information, send us an email or call 1-866-99-BAYER.
Mixing Instructions Ensure that the application equipment has been thoroughly cleaned from previous use before using to apply Alion Herbicide. Follow the steps listed below: 1. Shake container well to ensure that the product is thoroughly suspended prior to measuring in case some settling has occurred during shipping or storage. 2. Fill the spray tank with 1/2 of the required volume of water prior to the addition of Alion Herbicide. 3. With the pump and agitator running, add the proper amount of Alion Herbicide first. 4. Once the Alion Herbicide is completely dispersed, add any other pesticides, fertilizers or additives if they are to be applied with Alion Herbicide. 5. Add the rest of the water to the desired volume while maintaining sufficient agitating. Continue agitation while mixing and during application to ensure a uniform spray mixture. Re-suspending SC Products in Spray Solution: Like other suspension concentrates (SCs), Alion Herbicide will settle if left standing without agitation. Reagitate the spray solution for a minimum of 10 minutes before application.

PPE required for early entry to treated areas that is permitted under the Worker Protection Standard and that involves contact with anything that has been treated, such as plants, soil, or water, is:\r\n- Coveralls\r\n- Shoes plus socks\r\n- Chemical resistant gloves made of any waterproof material

PERSONAL PROTECTIVE EQUIPMENT (PPE) All mixers, loaders, applicators and other handlers must wear: - long-sleeved shirt and long pants. - shoes plus socks. - waterproof gloves. Follow manufacturer's instructions for cleaning/maintaining PPE. If no such instructions for washables exist, use detergent and hot water. Keep and wash PPE separately from other laundry.

Tank Mix Instructions Alion Herbicide may be mixed with and applied in combination with most commonly used pesticides registered for use in the approved crops to expand the spectrum of weed control. Alion Herbicide will generally provide little or no control of weeds that are already emerged or established at the time of application. When weeds are emerged at application, the addition of a labeled foliar active herbicide is needed. Only use products that are approved for use in the crop to which the tank mixture is to be applied. If Alion Herbicide is to be tank mixed with liquid fertilizers, other pesticides, or additives, compatibility should be tested prior to mixing. To test for compatibility, use a small container and mix a small amount (0.5 to 1 qt) of spray, combining all ingredients in the same ratio and mixing order as the anticipated use. If any indications of physical incompatibility develop, do not use this mixture for spraying. Indications of incompatibility usually appear 5 - 15 minutes after mixing. It is the pesticide user's responsibility to ensure that all products are registered for the intended use. Read and follow the applicable restrictions and limitations and directions for use on all product labels involved in tank mixing. Users must follow the most restrictive directions for use and precautionary statements of each product in the tank mixture.
---
---