The Delaro® Portfolio: Optimize Your Yield Potential
May 11, 2023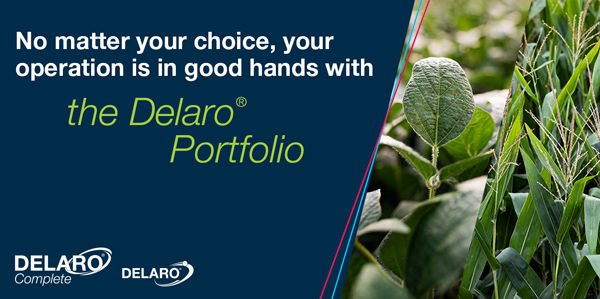 As agronomic practices evolve, so do the products and solutions we offer to ensure best-in-class protection against the seasonal challenges you face.
The Delaro® Portfolio is comprised of two high-performance fungicide products: our new premium-tier solution, Delaro® Complete, featuring 3 modes of action and well-renowned Delaro®. With increased concerns around resistance and rising disease pressures at play, there's never been a better time to consider the positive effects a fungicide solution can have on your yield potential.

Which of our high-performing fungicides is right for your operation?

Number of Different Modes of Action
Delaro Complete
Delaro
3
2
Active Ingredients
Delaro Complete
Delaro

Trifloxystrobin (Qol)
Prothioconazole (DMI)
Fluopryram (SDHI)

Trifloxystrobin (Qol)
Prothioconazole (DMI)
Registered Crops
Delaro Complete
Delaro
Corn, Soy
Corn, Soy
Key Benefits
Delaro Complete
Delaro

All the benefits of Delaro® with the addition of:

Consistent, broad-spectrum disease control
Triple-action chemistry
Improved performance consistency
Full genetic potential leading to higher yield potential

Consistent disease control
Dual-action chemistry leading to greater residual efficacy
Improved plant health
Reasons to Believe
Delaro Complete
Delaro

Third MOA provides more disease control than Delaro in:

Gray leaf spot
White mold
Brown spot

Delivers higher yield potential when compared to Delaro fungicide and competitors
Optimum residual efficacy
Single product, low, single-use rate for corn and soy
Bayer PLUS Rewards Eligible

Delaro showed a yield advantage in 90% of trials over the untreated check. *

* Based on 2016 and 2017 trials

Bayer PLUS Rewards Eligible
Videos
Resources
Bayer, Bayer Cross and Delaro® are registered trademarks of Bayer Group. ©2021 Bayer Group. All rights reserved.