Protect the Orchard Floor from Nutrient-Robbing Weeds
August 30, 2023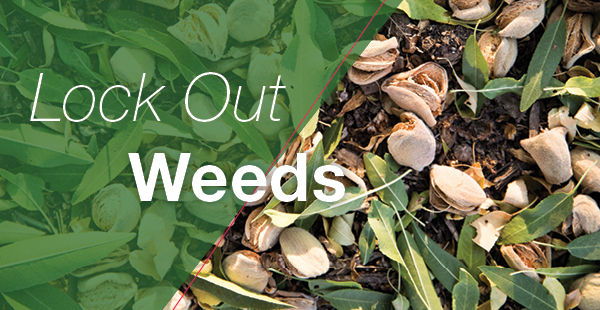 Killing weeds after they take over the orchard floor is akin to installing a security system after thieves emptied the house.
To protect yield from nutrient-robbing weeds, lock them out of the orchard floor. Slam the gate on weeds with a tankmix of a long-lasting, foundational herbicide paired with a contact treatment that provides a second mode of action.
Related: Alion: Highly Compatible Tank mix Partner
Benefits include:
Increased yield potential
Reduced insect and disease pressure
More efficient water and nutrient uptake
Improved harvestability in tree nuts
"Herbicides are important in almond orchards," says Pest Control Advisor/ Certified Crop Advisor (PCA/CCA) David Vermeulen, Modesto, California. "Weeds compete for nutrients. They compete for water. Those are probably your bigger two issues in the almond orchard, especially early on, so by keeping them down you have more water and more nutrients getting to the plant to get a better crop. Weeds also harbor insects – take morning glory, when you control it, you have a little less mite pressure in the orchard."
Vermeulen uses Alion® Herbicide two ways, depending on crop needs: a single application in a tankmix with a second mode of action in the fall or Alion alone in a split application with treatments in November and February. As a Group 29 herbicide, Alion offers a unique mode of action, which Vermeulen particularly appreciates for the resistance management opportunity. Learn How Alion Work
"Alion works well and it works perfectly for switching chemistries around," Vermeulen states.
Alion Provides Long-Lasting Weed and Grass Control
The effective, long-lasting weed control extends across a broad spectrum of broadleaf weeds and grasses. With low use rates in an easy-to-use liquid SC formulation, Alion also offers excellent crop safety. Learn More
Bayer Sales Representative Matthew Wilson, PCA, recommends Alion for pre-emergent weed control in mature almonds, walnuts and grapes during dormancy from November through January.
"Most growers," he says, "prefer a tree line application, though some broadcast Alion across their acreage."
Wilson's goal is to simplify weed control for growers and help them harvest high yields.
"It's important to maintain control of weeds in an orchard throughout the growing season," Wilson says. "If weeds go untreated through the growing season, they can potentially rob the orchard of valuable nutrients and water, which can put unnecessary stress on the crop. At harvest time, weeds can compromise the harvest process."
"Alion does a really good job, has long residual weed control and it takes care of a lot of broad-spectrum weeds that are giving us issues here in the Central Valley."
Ryan Garcia, of Hughson, California, a PCA/CCA with Salida Ag Chem, sees the weed population diminishing in the orchards he helps manage.
"I continue to use Alion in a pre-emergent rotation because it's a good product and it works really well. We can see Alion reducing the weed population overall as soon as we start using it," Garcia states. "I think it's one of the top – if not the top – pre-emergent product out in the market right now. Alion does a really good job, has long residual weed control and it takes care of a lot of broad spectrum weeds that are giving us issues here in the Central Valley." See Trial Data
Outstanding Weed Control Compared to Other Premium Herbicides
Percent of weed control at 121 days after application replicated at two locations in California tree nuts.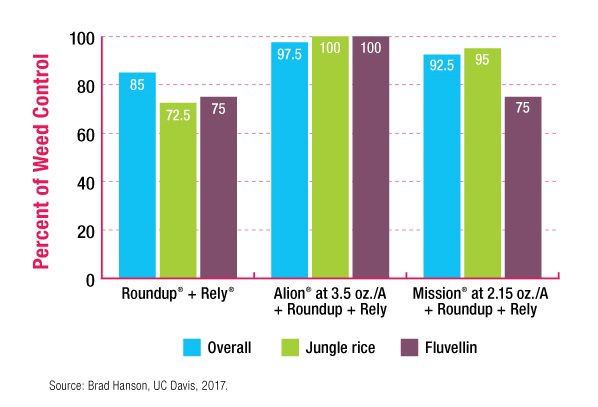 © 2019 Bayer Group. Not all products are registered for use in all states. Rely is a registered trademark of BASF. Mission is a registered trademark of Ishihara Sangyo Kaisha, Ltd.