How to Manage and Control Kochia
March 28, 2023

Kochia is a shallow germinating plant, allowing it to be a particularly competitive weed in dry and/or saline soils.
Kochia (Kochia scoparia) – also called Mexican fireweed, burning bush and summer cypress – is primarily found across states in fields where the soil has been disturbed, such as along fence lines and in ditches and poorly tended landscapes. It is particularly well-adapted to cultivated, dryland agriculture.
Identifying Kochia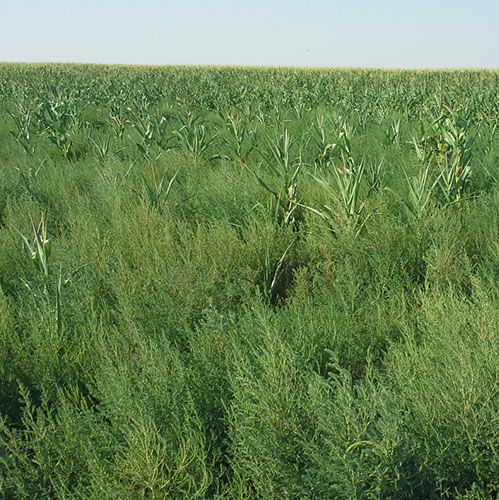 The rapidly growing kochia weed contains many branches that form pyramid or cone-shaped bushes. The plant may grow 7 feet in height or taller. Stems are erect, spreading and greatly branched from the base, and are usually soft and hairy.
Kochia is a bushy summer annual with many branches forming pyramid or cone-shaped bushes that may grow 7 feet in height or taller. Stems are erect, spreading and greatly branched from the base, and are usually soft and hairy, though occasionally smooth. Their typical yellowish-green to green color often turns red as the plant matures, yet both colors can appear on a plant at the same time.
The leaves of the kochia plant are 1/2 to 2 inches long with alternatively arranged, lance-shaped leaves. Depending on the age of the weed, leaves may also have fringed hairs on the margins. The leaf's upper surface is typically smooth, while soft hairs usually cover the lower surface. Seeds are oval, dull brown in color and slightly ribbed.
Kochia exhibits rapid growth between July and September. Flowers are inconspicuous and greenish, and form short, dense, terminal and bracted spikes. Each plant produces thousands of flowers, which generally develop from July to September.
Kochia Biology and Management from University of Illinois has additional details on identifying kochia.1
Potential Damage and Economic Impact
Kochia roots can grow as deep as 16 feet under drought conditions. With severe infestations and poor crop competition, kochia can create up to 100 percent crop loss.
Kochia stays green well into fall and steals valuable moisture from cropland. This can lead to considerable yield losses, either from delayed grain harvest due to weed moisture content in the field, or from increased grain moisture levels due to weed debris mixed with grain after harvest.
Manage Tough-to-control and Resistant Kochia
The most effective management strategies for kochia in corn, soybean and cereal crops should focus on preventing seed production throughout the year. Kochia is most susceptible to herbicide application prior to emergence and before weeds exceed 2 inches in height.
Consider pre and postharvest spraying where dense populations of kochia exist in your field. A preharvest herbicide application can speed drydown of weeds, improve harvest efficiency and alleviate residue problems that threaten to complicate fall tillage. At postharvest, control kochia with appropriate herbicides, or with tillage two weeks after harvest. Fall tillage reduces kochia seeds in the soil and will result in less residue and valuable soil moisture retained over the winter versus a fall herbicide application.
Do not plant into existing stands of kochia. Start weed-free at planting by using a burndown that is tankmixed with a pre-emergence residual herbicide just prior to or at planting.
Overwintering plants should be controlled early in the spring to ensure effective burndown. Growers may want to apply burndown herbicides with some of the residual herbicide in early spring and then apply the remainder of the residual herbicide at planting. To manage weed resistance, remember to practice herbicide diversity by choosing products with different modes of action from different classes of chemistry.
Crop competitiveness and crop rotation are two important cultural practices in cereals, corn and soybeans. Managing crop residue, controlling weeds and planting high-quality, uninfested seed all help establish a vigorous crop that can compete more effectively with emerging weeds for water, light, space and nutrients. Another helpful practice is rotation of grain crops such as corn, grain sorghum, proso millet, soybeans and sunflowers, depending upon geography.
Known Resistance in Kochia
Kochia has been resistant to Group 2 herbicides for more than two decades, and there is documented kochia resistance to Group 9, Group 4 and Group 5 herbicides.
Bayer Solutions for Kochia


ALWAYS READ AND FOLLOW PESTICIDE LABEL DIRECTIONS. Huskie® Complete and TriVolt™ are restricted use pesticides. Not all products are registered for use in all states and may be subject to use restrictions. The distribution, sale, or use of an unregistered pesticide is a violation of federal and/or state law and is strictly prohibited. Check with your local dealer or representative for the product registration status in your state. Tank mixtures: The applicable labeling for each product must be in the possession of the user at the time of application. Follow applicable use instructions, including application rates, precautions and restrictions of each product used in the tank mixture. Not all tank mix product formulations have been tested for compatibility or performance other than specifically listed by brand name. Always predetermine the compatibility of tank mixtures by mixing small proportional quantities in advance. Huskie®, Laudis® and TriVolt™ are trademarks of Bayer Group. For additional product information call toll-free 1-866-99-BAYER (1-866-992-2937) or visit our website at www.BayerCropScience.us. Bayer CropScience LP, 800 North Lindbergh Boulevard, St. Louis, MO 63167. ©2023 Bayer Group. All rights reserved.
Sources:
Hager, Aaron, and Christy Sprague. "Kochia Biology and Management." The Bulletin: Pest Management and Crop Development Information for Illinois, bulletin.ipm.illinois.edu/pastpest/articles/200103j.html.