History of The Old Farmer's Almanac
January 13, 2022
An almanac, by definition, records and predicts astronomical events, tides and weather with respect to time. Founded in 1792 by Robert B. Thomas of Grafton, Massachusetts, The Old Farmer's Almanac is the oldest continuously published periodical in North America. Thomas, a schoolteacher and bookbinder/bookseller, created his Almanac and served as editor for the publication for over 50 years, until his death in 1846.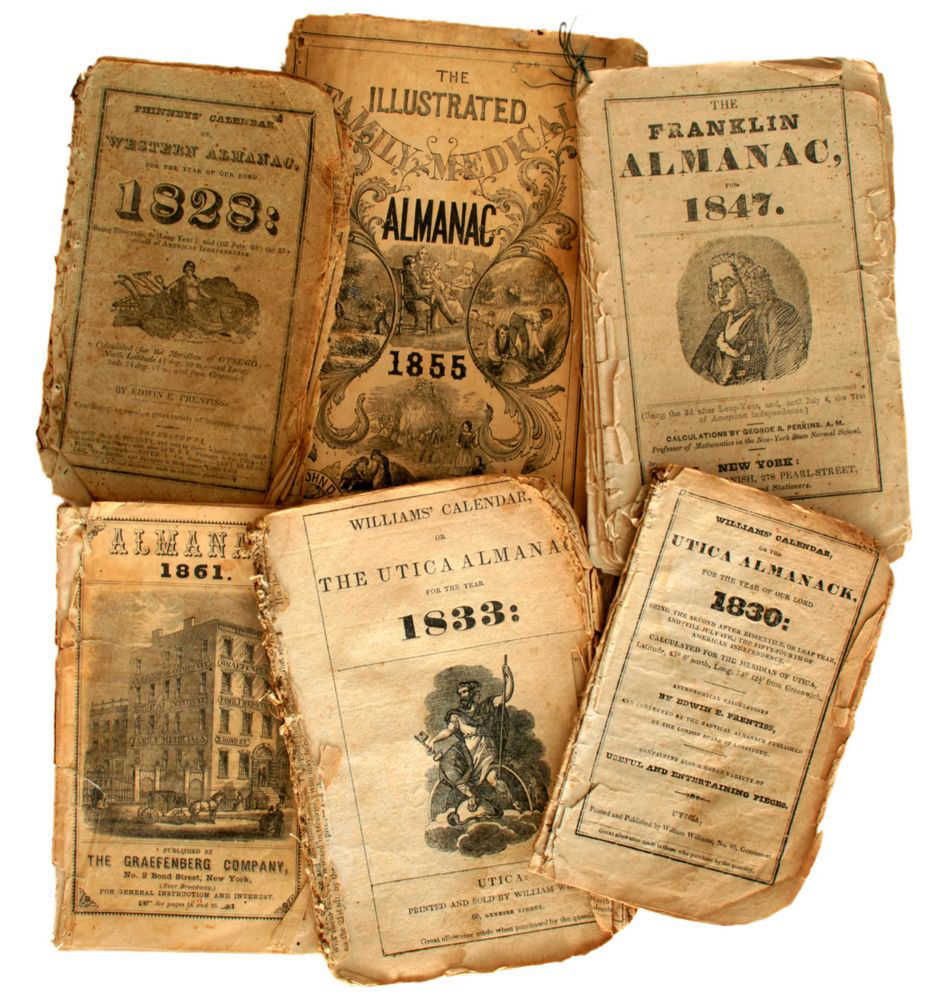 When The Old Farmer's Almanac debuted, there were many competing almanacs in circulation, but none had more success than Thomas' publication, which tripled in distribution in its second year to 9,000 copies. Its popularity can be attributed to Thomas' accuracy in weather predictions and the usefulness of his advice.
Thomas was able to calculate weather predictions for his book by studying solar activity, astronomy cycles and weather patterns. His technique was based on a theory that Galileo developed in the 17th century: "the idea that sunspots, on cycles of 11 years on average, influenced the climate and weather on Earth." From this research, Thomas developed a secret forecasting formula that is still used today. In fact, very few people know or have even seen Thomas' formula. It is safely guarded under lock and key at the Almanac offices in New Hampshire.
Historically, The Old Farmer's Almanac's weather predictions are proven 80% accurate. As the book was originally for farmers (when most people living and reading the Almanac in 1792 were farmers), getting the weather right was critical.
But the Almanac wasn't just focused on weather. Thomas cleverly quoted that the Almanac "strives to be useful, but with a pleasant degree of humor," including information about all sorts of topics — health advice, recipes, annual and seasonal events, trends and tips.
These are some real titles of featured articles that have run in the publication over the past 230 years: "Predicting the Weather: The Ol' Goose Bone Method," "16 Folk Remedies for Headaches," "100 Ways to Avoid Dying" and "Why My Great Uncle Gave Up the Ministry."
Currently, The Old Farmer's Almanac publishes four editions each year and has an annual circulation of 3 million copies. Readers can also connect online or via Facebook and Twitter.
Did you know?
Thomas drilled a hole through the Almanac so that his subscribers could easily hang it on a nail for easy access. In the 1990s, editors tried to discontinue this practice, as it cost an additional $40,000 to puncture. Subscriber outcry led to keeping the holes!
In its 1938 edition, The Old Farmer's Almanac did not include weather forecasts. The editor at the time substituted temperature and precipitation averages. It destroyed his reputation.
In 1942, a German spy was found with a copy of the Almanac in his coat pocket, leading the U.S. government to believe Germany was using the book's weather forecasting against American troops.
Janice Stillman, the current editor of the Almanac, is the first female to run the publication in its 230-year history.